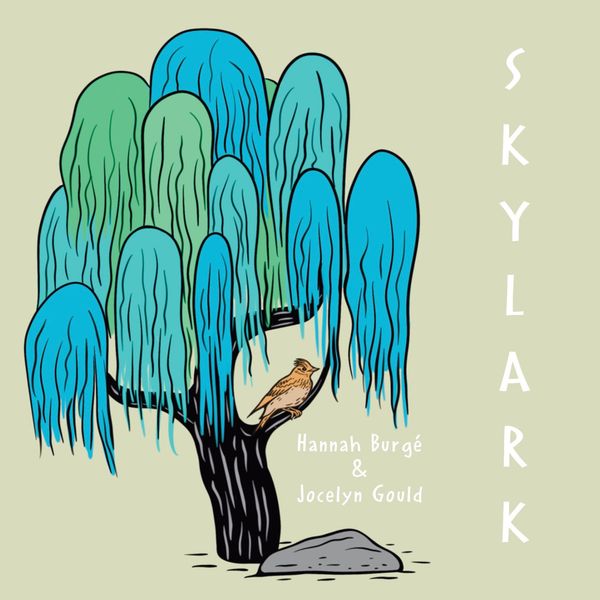 On January 27th, 2023, Hannah Burgé and Jocelyn Gould release the single "Skylark"
https://hannahburge.hearnow.com/
Bandcamp Link
 https://hannahburgemusic.bandcamp.com/track/skylark
Artwork by August Swinson @augustillustrated, Mississaugas of Scugog First Nation of the Credit.
Both Hannah and Jocelyn sing, and Jocelyn accompanies on guitar.
Jocelyn and Hannah went into Humber Studios summer 2021 to record live off the floor. They selected a 
few favourite songs to play and quickly settled on the haunting ballad, "Skylark."
Once recorded, Jocelyn and Hannah thought that the song release could support a new scholarship at Humber Music – a scholarship to promote gender justice in jazz.
Thus, the Humber Music Jazz & Gender Justice Award was born.
All sales of "Skylark" across streaming platforms, Bandcamp in particular, will fund the award. Supporters can also fund the scholarship directly with a tax-deductible receipt. Read below for specific instructions.
On January 27th, Humber Music YouTube will release an interview where Hannah and Jocelyn discuss their personal meanings in the song. They talk about equity in the music industry, nature themes in the song, and most importantly the lyric change. We want to support our Roma friends by removing pejorative language.
Hannah Burgé (Métis Nation Ontario) is an artist and academic. She is a professor of Music at Humber College in Toronto where she teaches music history, ethnomusicology, theory, and performance practice. Hannah speaks on gender equity in jazz, music cities, and Latin American popular music forms. Her music video "Serenity" was released by Jazziz Magazine in April 2020, and created in collaboration with Justin Broadbent (Shad, Metric) and featured pianist, Robi Botos. Hannah's debut album, Green River Sessions (2014) charted on US College Radio and received sustained worldwide airplay on more than three hundred stations. She headlined the Polanco International Jazz Festival in México City. Her compositions and collaborations have been featured on film and releases like Kuné: Canada's Global Orchestra (Universal Canada). www.hannahburge.com 
https://www.instagram.com/hannah_burge/
Jocelyn Gould
Jocelyn's debut album, Elegant Traveler, won the 2021 JUNO Award for Jazz Album of the Year: Solo. Golden Hour, Jocelyn's sophomore album, showcases her virtuosic guitar playing and dynamic compositions and introducers her voice. It has received international acclaim and radio play, reaching #1 on Canadian and #9 on North American college radio jazz charts. Jocelyn is a Professor and Head of Guitar Department at Humber College in Toronto. In 2023, Jocelyn embarks on a two month North American tour from Florida to Alaska as one of four guitarists featured in a concert of solo guitar. www.jocelyngould.com 
https://www.instagram.com/jocelyngouldmusic/
Personnel Details
Special thanks to: 
Designer August Swinson has beautifully captured the lyrics and feel of the song in their cover art. 
Recorded July 22, 2021 @Humber Studio, Toronto, Canada 
Engineer: Ryan McNabb 
Mastering: Justin Gray 
Video: Aasim Manji 
With thanks to Ilir Shaqiri, Eduardo Varella, Daniel Kolyasa and Sylvain Bedard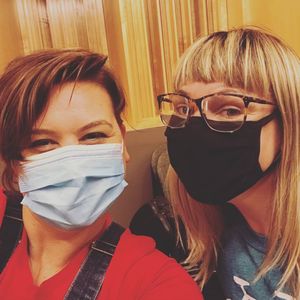 Donate to the Humber Music Jazz & Gender Justice Award like this:
Then, you are finished. Tax Receipts are sent via email.
With IMMENSE thanks, Jocelyn & Hannah
PHOTO: Hannah and Jocelyn in Humber Studios, July 2021